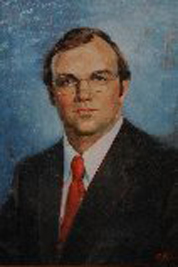 Stacy Eggers, III practiced law with the family firm for sixteen years before his passing in 1990. He was an accomplished trial lawyer, father to four sons, and devoted husband. An outstanding athlete, he enjoyed playing basketball and was an active supporter of Watauga High School athletics. In his free time, he enjoyed playing bluegrass music with his band, "The Contrary Bunch."
He served as Chairman of the board for Legal Services of the Blue Ridge, President of the Watauga High School Boosters Association, and coached many youth basketball programs.
He earned a reputation for being a "lawyer's lawyer," and enjoyed working with his colleagues to find practical solutions to their legal problems. His wit and humor brightened the courthouse and his professionalism and devotion to his family serve as an inspiration for the culture of our firm.