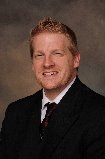 Chris Barnes comes to the firm from eastern North Carolina. He graduated from North Carolina State University where he obtained his undergraduate degree in Psychology. He received his Juris Doctorate degree from North Carolina Central University. Prior to practicing law, Chris worked as a Licensed Practical Nurse (LPN) and continues to hold a valid nursing license. His nursing experience has given him strength and compassion to deal with highly emotional and complex cases, as well as a strong background in medical issues.
He holds a Preeminent rating through the Martindale-Hubbell peer rating system. Click here to view Mr. Barnes'  Martindale-Hubbell review.
His practice areas include personal injury and traffic accidents, domestic and family law matters, and other civil litigation cases. Chris enjoys working with his clients resolve their legal issues, whether through settlement or court resolution.
Chris, his wife, and son live in the Blowing Rock community.