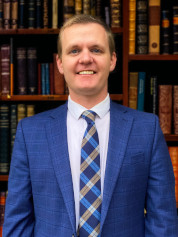 Kevin Friley is a Boone native who loves the High Country and the people who live there.  Kevin graduated from Appalachian State in 2012 with bachelors degrees in both psychology and criminal justice, and was awarded for being the top graduate in the criminal justice program.  He received his J.D. in Charlotte in 2015, magna cum laude.  He is a member of the North Carolina State Bar, the 24th Judicial District Bar Association, and is admitted to practice federally in the Western District of North Carolina.
Kevin has an extensive background in criminal law, having interned with the Watauga County District Attorneys Office in 2012 and 2013, as well as the Mecklenburg County District Attorney's Office in 2015.  While in law school he also worked in Wrongful Convictions Clinics, seeking the exoneration of wrongfully convicted individuals, and wrote extensively on the topics of "junk" forensic science and false eyewitness testimony for a textbook.
Kevin has been practicing in Boone and throughout the High Country since 2016 in the areas of criminal defense, family law, and other general civil matters.  He enjoys being in the courtroom and has litigation experience, having taken a number of cases to trial before judges and juries in both District and Superior Court.